Easter is just around the corner, children often recognize Easter as a time when the Easter bunny comes to visit.  The inclusion of the rabbit into Easter customs appears to have originated in Germany, where tales were told of an "Easter hare" who laid eggs for children to find. German immigrants came to America and brought the tradition with them and spread it to a wider public. They also baked cakes for Easter in the shape of hares, and pioneered the practice of making chocolate bunnies and eggs.
In some countries, like England and Germany, children roll eggs down hills on Easter morning. Even the President gets involved in the Easter fun. In the United States, children under the age of 12 get to roll hard-boiled eggs down the hilly lawn at the White house.
Here are some other popular Easter traditions.
Egg Painting: Eggs are often dyed, painted, and otherwise decorated during Easter. You can even purchase egg colouring kits to dye eggs.
Family Get-togethers: After Christmas and Thanksgiving, the Easter weekend meal is the third largest meal nationwide.
Easter Egg Hunts: A family fun Easter activity is an Easter egg hunt. Real or artificial decorated eggs of varying sizes are hidden for children to find.
Easter chocolates/baskets: Children were once told In order to receive this special treat they would have to make nests from hats or baskets so the Easter Bunny could leave them there.
What Easter traditions does your family have? Here are some you can try out:
Easter Nests
Ingredients:
1/4 cup butter
4 1/2 cups mini marshmallows
1/4 cup creamy peanut butter
1/2 cup semisweet chocolate chips
4 cups chow mein noodles
Candy eggs (mini Cadbury eggs, M&Ms or jelly beans)
Directions:
In heavy saucepan over medium heat, melt butter and marshmallows until smooth.
Stir in peanut butter and chocolate chips until melted.  Remove from heat and stir in chow mein noodles.
Work on wax paper and form 18-24 mounds.  Dip fingers into cold water as you work to prevent the mixture from sticking and shape each mound into a nest.
Fill with 2 or 3 candies each.  Cool and store in airtight container.
Easy Dot Easter Eggs
 What you need: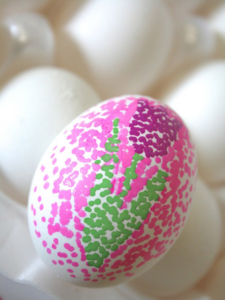 Hard boiled Eggs
Colourful paint pens
Stickers (optional) 
What to do:
Boil eggs and allow them to cool.
Paint eggs by making dots with paint pens.
You can also place a sticker on the egg, dot paint pens around the sticker and then remove to reveal a pretty outline of colour. https://tinyurl.com/lglsqw6
Easter Egg Scavenger Hunt
Clue #1 "Follow the clues to a gift for you. The first one is easy it's in your shoe".
What you need:
What to do:
Print and hide the clues.
Hide the prize/gift.